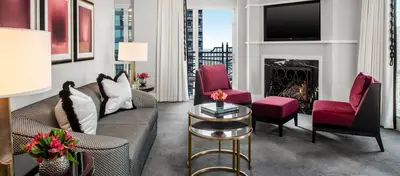 Fireside Chat
Free Seminar
Are you and your spouse prepared if something were to happen?
Is your family on "one accord" with respect to finance?
Or would you like to feel more confident?
You are invited to our three hour FREE DINNER AND SEMINAR event on
"Establishing A Family Legacy"
featuring Dr. Suzanne Penn, author of the book "The Pink Corner Office -
Women Achieving Power in The Workplace".

Relax and enjoy meeting new friends as you watch dramatic views from The Waldorf Astoria Chicago, one of Chicago's most luxurious gold coast hotels.
This free seminar and dinner event will cover:
Net worth versus Income
Creating meaningful family memories
Teaching life lessons to your entire family
Getting all of your siblings involved
Rewarding all siblings equally, is it fair?
Date: October 26th, 2024, Saturday
Time: 3:00 pm to 6:00 pm CST

Location: Waldorf Astoria Chicago
11 E. Walton St.
Chicago, IL 60611
Cost: Free Client Appreciation Event

Sponsored by: MFS WealthCare
Register - space is limited!

For more information call 312-577-7590 for email [email protected]
Featured Presenters
---
---
"The event was truly amazing! Dr. Sue did a fantastic job in explaining the various types of personalities in the context of financial planning and investing. She has a wealth of knowledge and her expertise shows. I felt very comfortable asking questions. More importantly she was non-judgmental. I can't wait until the next event for more gems of knowledge! Dr. Sue wants to see people succeed and fulfill their potential. She is the consummate professional. She receives an A+++++++ from me! Way to go Dr. Sue! "

Dr. Nicole Saulsberry
Springfield, Illinois
---
"Thank you for all that you do in the way of educating women about financial responsibility. Throughout the years, you have greatly enhanced my fiscal life, and I'm sure you've done similar things for other clients, as most consumers aren't aware of available resources."

Gloria Green
Chicago, Illinois
---
"I was inspired by this network (Re-create Your Life) through a Facebook friend Dr. Penn. Prayerfully this tool will help me & my family establish financial stability. The information... provided is very helpful."

Michelle Penn
---
"My consultation with Dr. Sue was enlightening, encouraging and helped me see the various ways I can earn and grow the money I have!"

Carla Smith
South Holland, Illinois
---
The Fireside Chat event venue at Waldorf Astoria Chicago
*Please note: this complimentary event is limited to clients of MFS WealthCare, ages 21 and over.